We treasure this touching Get Well message and can't help sharing it again here (we originally posted at our JustOneMoreBook! children's literature/literacy site)…
Our friend author Richard Michelson arranged and sent us this amazing video Get Well message which was filmed on November 8, 2009 during the 20th Annual Children's Illustration Show at the Richard Michelson gallery. The video features an incredible gathering of authors and illustrators sending get well soon wishes to me. How cool is that?!
A huge Thank you to everyone who beamed us these good wishes and to Richard for the beautiful sentiment. We missed you this year and we'll be there for sure in 2010!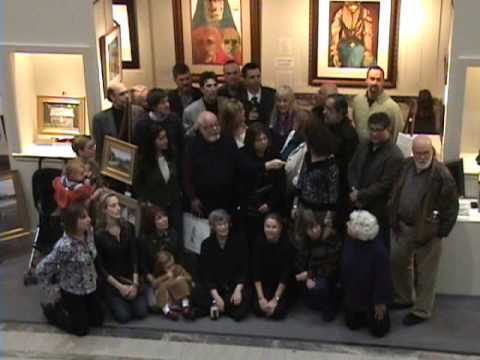 Front Row: Heidi Stemple, Rebecca Guay, Jane Dyer, Jeanne Birdsall, Diane deGroat, Barbara Diamond Goldin, Nonny Hogrogian, Susan Yard Harris.
Second Row: Brooke Dyer, Shelley Rotner, Norton Juster, Jane Yolen, Lesléa Newman, Brian Karas, Barry Moser, Susan Pearson, Anna Alter, Alice Schertle.
Third Row: Wendell Minor, Jeff Mack, Rich Michelson, Kathy Brown, Nancy Sippel Carpenter, Jeannine Atkins, David Kherdian.
Back Row: Carol Weiss, Mo Willems, Scott Fischer, Jarrett J. Krosoczka, Mordicai Gerstein, Paul Jacobs.